EVERYTHING A GYM ISN'T... AND MORE
EXPERIENCE CURVES FOR YOURSELF WITH
OUR 7-DAY
FREE TRIAL
BOOK FOR FREE CONSULTATION
At Curves, we support our members to get fit, gain strength and stay healthy. We're dedicated to helping women achieve their fitness goals and transform their lives. We invite women of all shapes, sizes and ages to join Curves, become stronger and live healthier lives!
WHAT TO EXPECT AT YOUR FIRST NO OBLIGATION VISIT:
Meet with one of our trained coaches.
Try a few strength training machines and learn about our latest circuits.
Together we will help create a fitness plan for your success!
CURVES CLASSES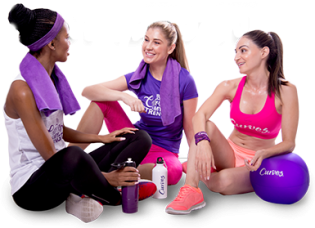 Join the fun today and experience our
NEW CLASSES.

About Curves
Overview
Created specifically for women, Curves offers a complete fitness and nutrition solution. The 30-minute workout exercises every major muscle group and burns up to 2000 kilojoules* through a program of strength training, cardio and stretching. In addition, club promotions and events encourage women to support charitable causes, learn about health-related issues and forge lasting friendships as part of the global community.
CURVES
FITNESS:
A TOTAL BODY
WORKOUT IN JUST
30 MINUTES
Have you ever gone to a gym and felt a little lost? That won't happen at Curves. Here, you'll progress through a series of hydraulic-resistance machines that are designed to work every major muscle group in a simple-to-follow Circuit. Each machine automatically adjusts to your effort, so you don't waste time having to change weight stacks or equipment settings.It's strength training, plus cardio, made simple. You get stronger, increase your metabolism and burn fat*. It's a total body workout in just 30 minutes. Best of all, at Curves, there's always a Coach there to help you get a safe, effective workout. Read More
CURVES MEAL PLANS
We'll teach you how to eat out or cook at home and provide recipes and shopping lists to make meal planning simple. You get plenty of proteins, good fats and healthy carbohydrates so you're never giving up an entire food group. This combination helps ensure that muscle tissue is preserved and that the majority of weight loss* comes from fat.
fitness classes this summer
PAY NOW AND GET 20% DISCOUNT!
Book Your FREE FITNESS Assessment